Stories
Posted by admin Comments Off on Nostalgic Interlude- 1930's Style
Nostalgic Interlude- 1930's Style*
by Tippecanoe Jack*
© 2006-All rights reserved by Tippecanoe Jack
Originally posted (by permission) on this site July 16, 2006

Picture this: It's the early 1930's, and you're waiting expectantly at the Union Airport in Burbank, California, when over the loudspeakers you hear a melodic, modulating bari-tone voice that echoes through the corridors with this announcement: "Ladies and gen-tlemen, your attention paa-lease, Paa-cific Aa-ah Traa-nsport, fa-light num-bah tha-rree, tha-rree zee-rro, is now arriving at gate num-bah one-ah, conn-course Be-ee." This is welcome news because it's the flight you've been waiting to board for the past four hours that was delayed by a line of thunderstorms moving across its flight path in the San Joa-quin Valley at Bakersfield, and night is fast approaching. Your destination is San Diego, and you're anxious to get airborne and looking forward to seeing the lights of "LA," as the initiated inhabitants have abbreviated "Los Angeles." You also hope to catch a twi-light view of the sunrays licking the wave tops of the Pacific Ocean before it completely disappears below the horizon.
In the near-distant sky can be seen a huge airplane with lights ablaze descending on final approach to the sod runway. It's a new Ford Tri-Motor fresh off the assembly line of the Stout Metal Airplane Company Division of the Ford Motor Company in Dearborn, Michigan. Its landing lights are each about the size of those trendy Italian Bugatti head-lamps you've seen driving around Hollywood lately, and look like they've been pressed into the wings. It gently touches down, taxis off the runway and wheels in a half-circle to parallel the front of the terminal with its big plate glass windows. Then, as the captain closes the throttle and pulls the mixture control lever to the "idle cut-off" position, the propeller of the right engine obediently ceases to rotate. The center and the left engine are kept running at idle to save precious time, since the flight is well behind schedule due to the weather.
This long corrugated aluminum box, that's been dubbed the "Tin Goose" by some wise-crackers, has wings that span a little over 74 feet, and is carrying nine weary passengers who've flown since early morning from San Francisco to Sacramento, Fresno, and to Ba-kersfield (where it was delayed), and finally to Burbank. You proceed to walk toward your gate according to the announcer's instructions, but just as you turn the corner of Concourse B, you get bumped around in a mad rush of newspapermen, armed with Speed Graflex cameras heading for the door of Gate One- your gate!
You're more than a little put out by the impudence and lack of manners these vultures are showing, but you're also a little curious, and your attention is immediately drawn to the side of the plane when the co-pilot slowly opens the small passenger door, and steps out, and fastens it into place. He then places a little platform stool beneath the fuselage, so the riders can step more easily out of the plane, and reaches up in the doorway to offer his hand in assistance as the first rumpled passenger steps down. One by one they depart, but as you're keeping count, only seven have so far appeared. A slight delay in the action causes a hush of anticipation in the nest of hawks, as they recheck the settings on the flash cameras and jockey with each other for what they think will be the best angle for their shots.
Suddenly, there's a flash, as one trigger-happy cameraman accidentally lights up the air-port ramp; then, quick as lightening from heaven, there's a burst of blinding light from all directions when the eighth passenger, a dark-haired handsome man, sporting a thin mus-tache, steps out of the plane refusing assistance from the co-pilot. He immediately turns around and holds out his hand to help a beautiful blonde-haired woman as she appears in the doorway. She's attired in a long white satin dress, and slowly and carefully slips her white high-heeled foot out from the narrow slit in her dress to step on the platform, and reveals more of her curvaceous extremity than a discrete gentleman would admit he had seen. This calculated exposure causes an excited gasp among the "press corps," and they quickly snap their shutters to capture this sensational view, that again causes her platinum hair to shimmer with bursts of flashing light. As the crowd begins to press closer around them, a chauffeur, driving a deep maroon four-door convertible touring car trimmed with rich cream-colored wheels, dashes up alongside the plane and scoops up their sticker-covered luggage. This glamorous pair quickly jumps inside, and away they go, heading for Beverly Hills! "Who were those gorgeous people," an unfamiliar stranger asks? "Well, sir," you reply, " you may be interested to know they're the new 'movie stars' everyone is raving about out here in Hollywood since their latest picture got released called 'Red Dust.' You'll hear a lot more about them, I'm sure- that was Clark Gable and Jean Harlow."
Without escort or fanfare, or the privilege of celebrité, you manage to climb on board the big silver bird, and move up the narrow center aisle to your woven wicker seat two rows back from the cramped cockpit. Since all the seats are "window" seats on the Tri-Motor, and quite large at that, you have a great view. When the preflight is completed and all is ready for takeoff, the engines roar with maximum power and the tail wheel quickly lifts off the ground, and the plane accelerates on its main gear. At around 90 miles per hour, the ship rises skyward, and when cruising altitude is reached, you're still going the same airspeed. Since you've flown in it before, you also know that it lands at about the same speed too. As the captain adjusts the throttles for cruise, the drone of the engines be-comes a reassuring sound as he synchronizes their revolutions to that monotonous mono-tone that all multi-engine pilots and sophisticated passengers understand and appreciate. When the ship levels off, the lights of the "City of Angels" spread out across the horizon, and become an electric ocean that takes your breath away. In the night sky, the blue flame of the exhaust streaking out behind the engines beneath those sturdy wings, are confirmation that the correct fuel mixture has been set by the pilots, and now you can re-lax- at least for a little while. Off the left side of the plane you notice a light streak of fog lying between some of the foothills above the dim outline of the Rose Bowl by Pasadena; and beyond that, you glimpse the pale-yellow, full moon peaking over the San Bernar-dino mountains as it begins to rise in the eastern sky, and you promise yourself that you'll never forget what you've seen this day.
*     *     *     *

Fast Forward: It's Wednesday, June 28, 2006, and we were waiting at Harry Clever Air-port in New Philadelphia, Ohio to witness the landing of a vintage 1929 Ford Tri-Motor Airplane that was scheduled to arrive that morning or early afternoon, but has been de-layed by bad weather around Buffalo, New York. Northwest Airlines Captain Tom Leahy, had called his wife Mary on her cell phone, and told her that they had to land in Jamestown and put the plane in a hanger to protect it from the weather, and they were going to be several hours late. This was disappointing news to the anxious crowd hang-ing around there, as some had purchased advanced tickets to ride this flying antique and were expecting to go up that day. The plane arrived too late though to take any passen-gers on Wednesday and because it is now restricted against night flight. But, early the next morning, the crowd was back, and the flying began. One couple, Mr. & Mrs. Mel Rumbaugh had come all the way from Johnstown, Pennsylvania, in their motor home and stayed overnight to get their rides. Mel is a retired corporate pilot with thousands of hours of flying time in just about any kind of plane you can name, but he had never flown in a Tri-motor. He vowed he wouldn't leave until he got his turn to go up.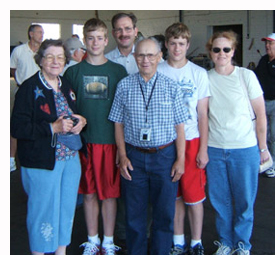 Merle Arnold & Family
Eighty-four year old Merle Arnold of Orrville, Ohio had first flown in a Tri-Motor in 1938 in Barberton, Ohio and this time he brought his wife Luella, son John, grandsons Brian and Greg and his daughter-in law Susan to see it and also fly in it with him once again. He recalled that the plane he rode in 1938 "had wicker seats and knobby tires." His wife Luella, who has flown to Europe with him a couple of times in modern planes, declined the opportunity, but the rest of the family had their rides, and were thrilled! For most of the passengers, money was no object, and some like Russ Paradise of Mechanic-stown in Carroll County, and Dave Johnson of Dover, even paid $100 to ride in the co-pilot's seat for the 15 minutes the plane was in the air. When asked what his impression of the flight was, Paradise said "Neat man, that's all that I can say!" All in all there were 24 full flights on Thursday before the plane and crew packed up and flew to their next "gig" in Port Clinton.
Captain Leahy lives in Medina, Ohio and his flying mate Captain Cody Welch is from the Detroit area. Both are Northwest Airline pilots, and between the two have over 52,000 hours of flying time. Even after years of experience flying all makes and models of air-craft, this is how they like to spend their vacations. Mrs. Leahy and their son, "T. J.," do all the groundwork of booking passenger on the flights, and mechanic Bauken Noak, of Oshkosh, Wisconsin takes care of the planes maintenance.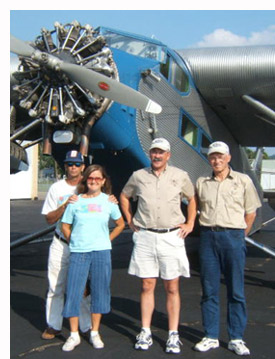 Tri-Motor Crew
The local Experimental Aircraft Association, Chapter 1077, sponsored the event with Terry Henry acting as chairman. A cadre of volunteers helped also, including Civil Air Patrol Squadron #277. The national EAA in Oshkosh now owns the Tri-Motor, and have completely rebuilt it after it was damaged on the ground by a severe storm. The money raised now helps to purchase and maintain other vintage aircraft as well. When it left the factory, in 1929, it was originally used as an airliner for Pitcarin Airways who started Eastern Air Transport (Eastern Airlines), and Cubana Airlines in Cuba. It was afterwards employed in various capacities including use by the Forest Fire Service as a fire bomber, and even as a prop in a Jerry Lewis movie.
Dave Shankliln, of Dover completed the nostalgic scenery for us when he brought his 1930 Ford Convertible Touring Car to the airport, and of course it was maroon with cream trim, but Clark and Jean couldn't make it that day, they had another engagement.
*Revised since publication

© 2006-All rights reserved by Tippecanoe Jack
T-Jack Publications
717 Lake St. NW
New Philadelphia, Ohio 44663
(330) 602-8598
email: tjack@web1.tusco.net