Posted by glenn
November 26, 2010
Originally published May 28, 1939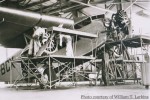 The 144-passenger (sic) Ford tri-motor airplane of the International Flying School, which has been in Corpus Christi the past few weeks carrying passengers there on sightseeing air trips, is back at the Laredo municipal airport.  It was flown back here the past week by Art Donahue (sic), instructor of the flying school, accompanied by Bob Hoseck and Melvin Seaman.
The big ship is again being used to carry passenger on sightseeing flights over Laredo in order to advertise the flying school here ad build up interest in aviation.  It is the largest commercial airplane based anywhere in South Texas.  Passengers will be carried Sunday afternoon and there will be some stunt lying (sic) and other entertainment provided by instructors and students of the flying school.
Sorry, the comment form is closed at this time.