Posted by admin
November 23, 2010
Remembering my Father, Colonel W. W. Maas U.S. Air Force
by Fred Maas, Santa Fe, New Mexico, USA
Originally posted March 12, 2005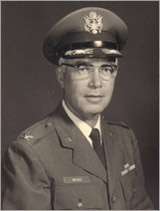 Col. W. W. Maas
Nov. 17, 1916 – Jan 13, 2005
My father, Col. W. W. Maas, US Air Force reserve, passed away recently. He loved to fly, and so I told this story at his interment at the National Cemetery in Santa Fe, New Mexico.
The 1929 Ford Trimotor, 39-N9683-5ATB, was restored by American Airlines in the late sixties. My Dad, who worked for Bell Labs, did a lot of business with airlines, and he was offered a chance to fly in this plane before it went to the Air and Space museum in D.C. It was a huge thrill for him. This is his story of that flight.
As he left home he told us to watch for him, and he would try to fly over the house. Once in the plane, in the tiny cockpit and airborne, he was put in the copilot's position.
The pilot leaned over toward him and shouted, "SORRY FOR HOW LOUD THIS PLANE IS, MR. MAAS."
My Dad answered, "IT'S NOT AS LOUD AS THE B-29'S WE FLEW DURING THE WAR!!!"
The pilot was surprised. "I DIDN'T KNOW YOU WERE IN THE AIR FORCE?"
"I STILL AM," my Dad answered. "I'M A COLONEL IN THE AIR FORCE
RESERVE!"
"REALLY?" The pilot thought a moment, then said, "WOULD YOU LIKE TO FLY HER?"
My father all but did a double-take, and looking at the pilot said, "YOU'D LET ME FLY IT?"
"SURE!" the pilot answered.
So my father took the controls and flew the plane. After a bit of practice he had the hang of it, could bank it and so on, and, knowing the terrain, he headed toward our house. A while later we, on the ground heard an unmistakable strange sounding plane and knew it could only be our Dad in the Tin Goose. Just as it came over he wiggled the wings at us, then disappeared over our horizon and the drone faded.
My Dad was having the time of his life. They were circling back toward the air field when my Dad turned to the pilot and shouted, "YOU KNOW THIS IS THE FIRST TIME I HAVE EVER FLOWN A PLANE!"
"WHAT?" the pilot answered, "I THOUGHT YOU SAID YOU FLEW B-29'S IN THE WAR?"
"YES, I DID… BUT I WAS THE NAVIGATOR!"
Sorry, the comment form is closed at this time.